Her Story with Amanda Mulvene: Using Passion and Persistence to Build a Successful Business
I first met Amanda through mutual friends when I lived in Chicago over 8 years ago. The things I remembered about her back then were that she was always smiling, always so positive to be around and of course, always looked like she walked out of a magazine. I love that we ended up reconnecting when we both found ourselves moving back to the Louisville-area to be closer to family. It's probably no surprise after reading her interview below, she's still all those from when I first met her.
In addition to being all of that, though, she's also incredibly persistent (see Dallas story below for a specific example), very determined, and fiercely passionate about her business, products and people she works with. And on top of all this, she's also a loving mama of two.
Below Amanda shares a glimpse behind the curtain of how she turned a failed job hunt into the business of her dreams, what's it's taken to get to where she is today and what you can learn from that if you're dreaming of doing the same. Plus, she shares a fun cocktail recipe, what fashion trends to expect this fall and a special gift for this group, so keep reading!
Meet Amanda: Fun Facts
I love beef jerky.
I was a Jazzercise instructor in college....not just for Halloween.
I started my first fashion company in college with my friend Tara for our best friend Nichole who past away. It was a neck warmer fastened with buttons, called the Nic, after her. We sold it like crazy all over Indiana University's campus and eventually took the company to Chicago with us!
I love house plants, but I've owned more fiddle figs then I can count.. none are still alive.
I'm obsessed with interior design..so much so I went back to school for a second degree...I'm saving that for my next life as I've realized you can't be everything.
I'm an an antique hoarder and brass lover. I used to wake up early & travel to antique markets in college and my girlfriends just didn't understand! Luckily I meet a mate that has the same love- sometimes I get to tag along for antique trips with husband abroad...however his 2 am wake up time for market is a bit to early for me!
My first job in high school was a Victoria secret perfume sampler at the front door. Remember that? And my first day I was two hours late. After a long day a school I went home and took a quick nap and apparently didn't set my alarm! Thankfully I wasn't fired.
My current favorite cocktail is a Paloma and the best is at from porch at the Marriott downtown (Louisville). Paloma advice...If it not on their menu don't order it- it never turns out good.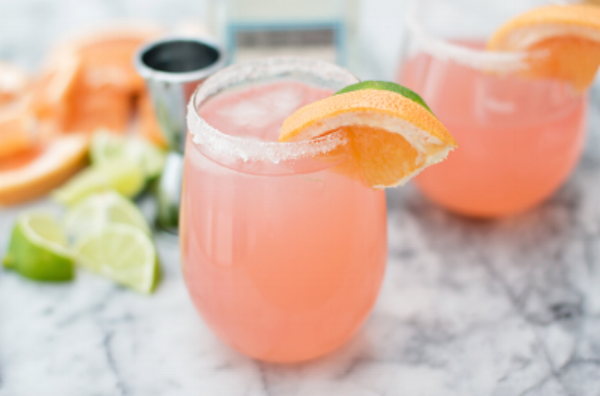 Tequila, Topo Chico mineral water and a splash of ruby red grapefruit juice. Garnish with serrano pepers slices.
Where you can find her:
I grew up in southern Indiana, but live in Louisville, KY now! The Highlands has been the perfect stop after several years in Chicago.
Tell us a little about your business, Dress & Dwell:
We are female owned online boutique with curated girly goodies. We have one location in historic downtown New Albany, IN.
I absolutely love the ever-changing fashion world! It's always something new and keeps me intrigued and on my toes!
How did it get it's start? Did you know this is what you always wanted to do?
It was a dream of mine from a young age, but I wasn't sure if it was really possible! I made a business plan when I lived in Chicago and dreamed about it often. When I moved by to the Louisville area I wasn't able to find a job, so I took the plunge and made my own job. I'm so thankful I wasn't able to find a job!
I was voted most likely to own my own fashion business in high school.
What is challenge you have you had to overcome to get where you are now with your business? How were you able to overcome that or what are you doing now to overcome that's working?
Learning how to grow online - this is a whole new world to me. I love learning about it and trying new things to see what works! Currently we are putting a lot of effort into Instagram and an influencer campaign.
Initially, we were denied for the Instagram rewardStyle program [an invitation-only web tool that helps top tier style publishers find and monetize their content]. I decided I would show up to their headquarters while I was in Dallas on a market trip.
Eventually, I was able to get a contact, a meeting and accepted. Persistence pays off.
What is the main key to helping you get to where you are now?
Persistence, hard work and a great team!
What advice would you give to other women looking to start their own business?
Just go for it!! You can't be successful without taking risk.
Hire a professional for what you aren't good at! You are better off spending time on what you are good at and not spending on things you aren't.
Something I've lived by that a previous employer taught me - "You can't work so hard at something for it to not eventually not turn out."
What are some business resources that help make life easier/better?
Apps apps apps! There is literally an app for everything these day! If you have multiples employees we love "When I Work" for scheduling and photo editing apps if your running your own Instagram.
What routines do you have that helped you be successful?
That's something I'm not great at because everyday is different for me. I do make sure I get my morning work outs in each week...it's very import to me both physically and mentally.
What is a book or podcast you would recommend for others looking to start or grow their business or just for general positive mindset motivation?
I love "How I Built This" podcast and the girls from "Crazy Zen Life" just started a fun podcast!
What are common mistakes you see small business owners make when it comes running a business and what tips do you have to help?
Trying to do it all themselves! You are better off putting your efforts in to what you are good at and hiring someone for what you are not.
For fun…What fashion trends and tips should we be aware of this fall?
Tie front tops, lots of polka dots, blush, pearls, flare jeans, and bell sleeves are still in this season and a fun twist on the usual t-shirt and sweatshirt.